A career that suits you
Are you a school leaver, a seasoned pro in BI or just curious how things are going behind the scenes at At Once? Do give us a few minutes to explain how a satisfied consultant results in a satisfied customer.
School leavers are welcomed with open arms at At Once. A colleague cannot be more motivated than graduates are, can he? We accompany you intensively during your walk-in period. We provide professional training through our partner Qlik. Therefore, you quickly master the product portfolio. Hey, wait… Can I achieve this without an IT diploma? Yes, that is possible! Eager to convert 10 million rows of data into a visually stunning dashboard is much more important.
Did you finish your training? That is where the fun starts. Of course, we do not throw you to the lions on your first day. However, we always try to fill in your walk-in period in a useful way. You can for example work on internal projects, test new tools or extensions or develop a Proof of Concept together with an experienced colleague so that our sales team can astonish our tomorrow's customers. You will be on the road together with an experienced consultant before you know it. Did you learn to run after being able to walk? From now on, you can go on the job even without your colleague.
Enough for now about the rookies among us. We have customers within our portfolio for which we easily perform more than 4.000 man-hours per year. You can be assured that in such projects both technical and project skills of expert level are required. Here is a message to seasoned-pros who want to join our team: please ready yourself to lead these projects in the right direction.
One team
For years we have been building a strong team that works with and for each other. Let us not be falsely modest, the current 15-person formation succeeds very well in here. You do not see all your colleagues on a weekly basis since we remain a team of consultants. To keep the team spirit at its best, we organize at least four team days a year. Here, we combine seamlessly work and fun. On such days, we firstly sharpen our skills in-group, followed by an activity where we amuse ourselves. Those activities can range from karting, to attending sport competitions with VIP experience, to an idyllic Vespa ride. You name it, as long as it is fun to do.

Culture
At Once is part of the Cronos group, where stimulating entrepreneurship is key. This philosophy reflects into our own team as well, where each individual consultant has his own responsibilities and freedoms. After all, the ultimate goal is a satisfied customer. How you prefer to organize this or how many resources you need for this can be determined for a large part by yourself or by your project team. Does it turn out that you can work efficiently from home two days a week? Well, you are free to set up this system together with the customer!
Another consequence of this culture is that we all work together in a flat organizational structure. Do you want to play a tennis game or ride your bike together with your boss during the weekend? This is possible with us! Better said: we do this.
We are At Once! (Maybe you too in the future?)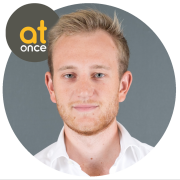 Niels Van Dingenen
Has joined our team for more than 2 years now. Enjoys it that hard that he makes bike rides with his colleagues during weekends. A surprised end user who is able to gain new insights, makes him feel satisfied.